The Sentinel is a tactical watercraft used for patrols, crew transfer, rescue, first response and dive boat operations, by defence, public security and emergency service organisations across Tasmania and Australia.
In the 1990s, Tasmanian mariners realised it was different here. The Tasmanian climate, and the turbulent Southern Ocean, made things tougher than in other places. There was no seaboat on the market durable and safe enough to operate in our harsh environment. PFG Group launched with a Tasmanian solution: the Aquatruck.
Working with our clients and partners over 25 years, we listened and improved the boat. With each iteration it had to be safer, stronger, faster, more sophisticated. The toughness of our marine environment, and our culture of hard work and invention, means that in Tasmania good is never good enough. The evolution of our research and development, our experience, and our relentless focus on the people who rely on our boats is The Sentinel – the toughest, fastest, safest, most durable choice.
The Sentinel evolved to provide defence, police and emergency services with a high-performance vessel for maritime operations where reliability, high capability and mission availability are vital. The Sentinel – tactical watercraft to serve and protect.
Range and Applications
Each vessel we produce starts with a full consultation with our customers and the PFG team to fully understand the requirements and application of the vessel. A range of some of the vessels we have produced are featured below with their individual specifications. Please contact us to discuss your requirements.
DEFENCE & LAW ENFORCEMENT BOATS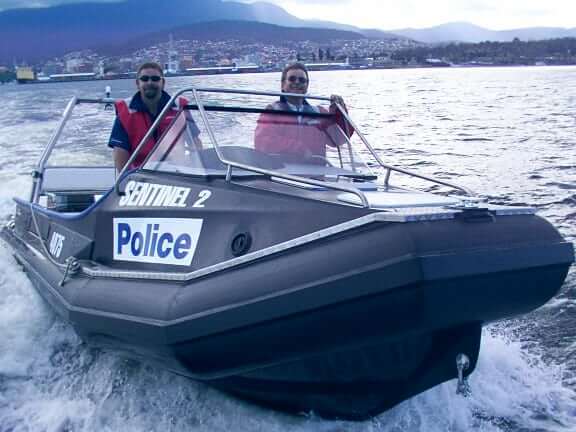 Tasmanian Water Police Boat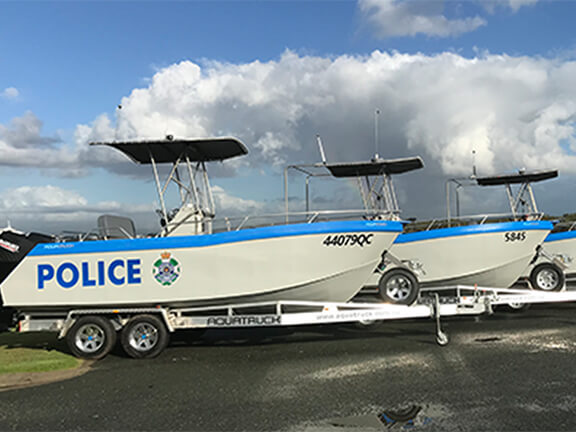 QLD Water Police Boat – 5.5m
Military
For defence and enforcement applications we offer a military off the shelf specification based on our proven high speed range of vessels.
High Speed (>50knts)
Very stable smooth ride meeting HSC Human Factors design principles
Materials carry a ballistic rating to NIJ Standard 0108.1
Shallow draft
Indestructible non-puncturing 15 mm hulls
Zero corrosion
Highly adaptable for configurations including gun lockers, ordnance storage, dog boxes, dive doors and moonpools
We offer an autonomous control system based on MAP Pro
DEFENCE & LAW ENFORCEMENT BOATS
Aquatruck Defence has taken more than 20 years of PFG's experience developing HDPE commercial boats for the marine industry in Tasmania where every aspect of design and function are put to the test year after year by extreme weather, arduous tasks and tough operators.
This unique environment has become the R & D testing ground that provides the ultimate testimony to the durability our traditional HDPE work boats and has become the obvious platform for us to move boats into national security and military environments.
The Sentinel has already proven itself with Tasmania Police operating five Aquatruck HDPE boats since 2002, and Queensland Department of Public Safety placing a multi vessel build order for coastal patrol in northern waters. Clearly what-ever your operational environment, The Sentinel can meet your specifications.
Defence Science and Technology have documented the effect of traditional alloy rigid hull inflatable boats – RHIB's – causing fatigue and health damage to crew members in high speed water transits.
What is the differentiator?
Sentinel vessels deliver an inherently smooth ride at full speed due to the low centre of gravity, high density "thick" shock absorbing materials, proven design and build methods. It is these virtues that The Sentinel can bring to a new generation of evolved design fast military vessels, as well as a wide range of practical workboats for maintenance and support.